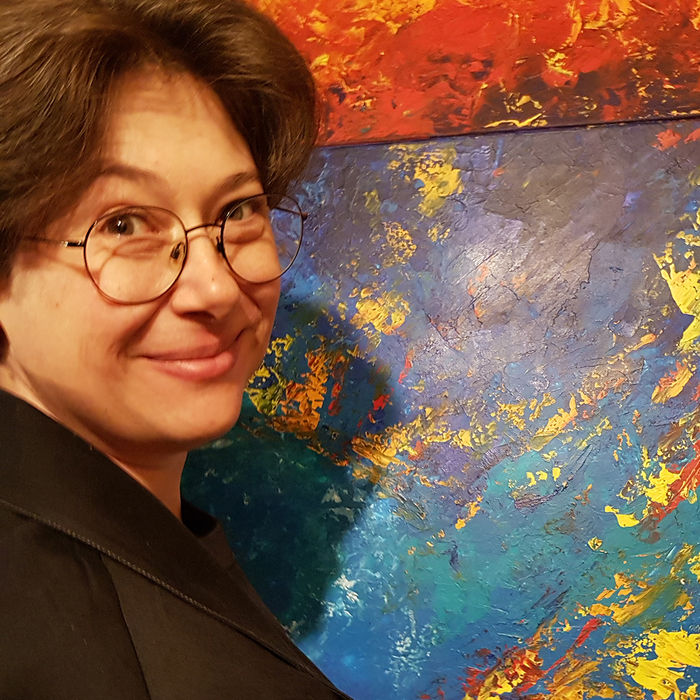 Emma Coffin
Paris, IDF, France
Biography
Autodidacte, j'ai commencé très jeune à dessiner, d'abord en apprenant avec les Comics, puis en reproduisant ce qui m'entourait en m'attachant particulièrement aux paysages dont les couleurs m'inspirent au plus haut point. J'ai continué mon apprentissage en travaillant sur différents projets BD, scénarii et illustrations utilisant différentes techniques : l'encre de Chine, les encres de couleurs, le lavis, les aquarelles, les crayons de couleurs, les feutres et la peinture.
Puis en 2019, en changeant de technique : peinture acrylique au couteau sur toile, je me suis tournée vers l'Abstraction pour embrasser pleinement la couleur, comme si cela avait été une évidence que j'avais attendu toute ma vie.
Selftaught, I became passionate about drawing at a very young age, I learned to draw...
Read more
Artistic approach
My artistic approach is to explore the Abstract with my acrylic paint and knife that take me far into space or into the deep sea. Experimenting also with the material and the gesture, I let myself be carried as if the color was animated by its own life, opening new unexplored doors: those of the Universe.
Then I started to meditate and work in an energetic way so that the paintings can bring joy, strength, energy or soothe and touch those who will look at them while arousing their imagination. Each painting is a new adventure full of promise. It is an outpouring of flamboyant and luminous colors that ignite the canvas in...
Read more